Here is baby J in some of the items with which commentors suggested he be photographed. May I present: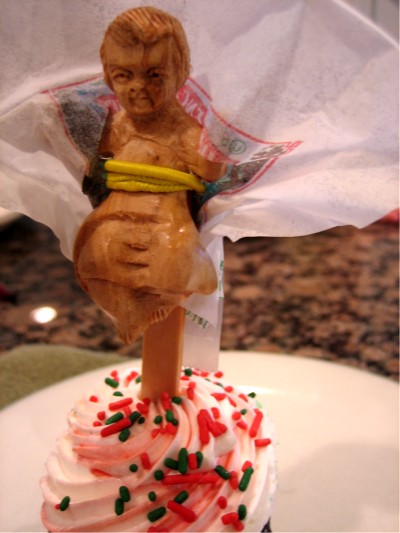 Greased Jesus Christ on a popsicle stick! And also on a cupcake!
Yeah. That little coat he is wearing is a butter wrapper to signify the greasy goodness of baby J. Although the back of that ensemble is kind of worse than having a 'kick me' sign the way it got folded: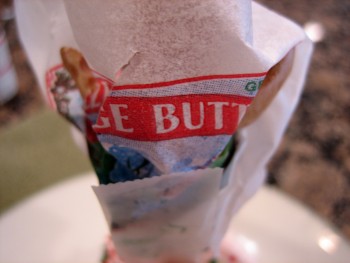 (See the Jayster's 'butt' there? Me too.)
Baby J and I feel our only regrets thus far are not being able to procure a tiny crutch or miniscule pogo stick to add to the picture as was recommended by some brilliant commentors.
Because if we had? Holy Greasy Jumping Jesus Christ on a Popsicle Cupcake Crutch! We would totally have a picture of what everyone should say if they ever hit their thumb with a hammer in the exact moment of hearing the news that Jamie Lynn Spears is pregnant and also, the dog farted a really nasty egg fart when you started cursing.
15 Responses to "Baby J Takes Requests"
on 20 Dec 2007 at 2:20 pm Moi




I also need to see Christ in a Nightgown.

I heard that all the time when I was kid.




Um, where is he on his classic cracker?




Oh, oh, I am SO adding this to my repertoire, "Holy Greasy Jumping Jesus Christ on a Popsicle Cupcake Crutch."

Julie
Using My Words




Oh Anne, we're peeing our pants here in Chicago…..

since the "Jayster" is now taking requests, perhaps you should show his Tuscon sighting?

He only has a couple of days left! Can't wait to see what's next.

Deb

on 20 Dec 2007 at 5:36 pm Sam




I can't even say that with a straight face. Or any face. My LORD.

on 20 Dec 2007 at 6:18 pm Marla




On the potty with the bear.

on 20 Dec 2007 at 6:19 pm Marla




I mean, on the potty with the bear please. Sorry. I got so excited…

on 20 Dec 2007 at 10:06 pm Patty




One day old and he uses the potty? Wow, even I'm impressed.




Wow, only one day old and he uses the potty? I'm impressed.




My MIL always says "Oh, Jesus wept." Like in instances when something is difficult.

Have you caught Baby J crying lately?




Thank you so very much for this. 😆

We definitely need to see Christ on a Cracker. As Babity said, it is a classic. Please!

Could we make him a crutch out of toothpicks? Christ on a Crutch is a MUST. Pretty, please.

A few other ideas:
BabyJ seeing the light
BabyJ tap dancing
BabyJ on a raft
Jumping BabyJ
BabyJ on the Rooftop

😆 I think I'm enjoying this way too much, don't you think? Thanks again.




I laughed so hard my nostrils were quivering!

on 21 Dec 2007 at 4:37 pm Kathy




I think I just found my new saying. Fucking crapshit was getting old. You rock for helping out!




hahaha I'm with Julie Pippert – I'm so adding that to my repertoire. I'll have to think of a way for you to make a pogo stick – really need the pogo stick. 😛




Oh I am going to hell just for reading this.
DAMNED FUNNY.