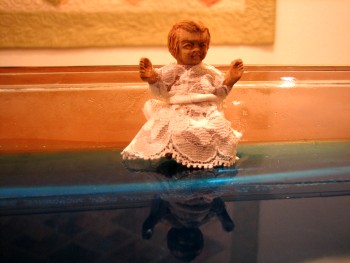 J: Oooh, is it cold! Ha! Just kidding. I have no idea what temperature that water is. Since I am walking On. Top. Of. It. Boo-ya! Who's your baby now, huh? If I could only go back to 1985 and get Michael Jackson to teach me that moonwalking thing…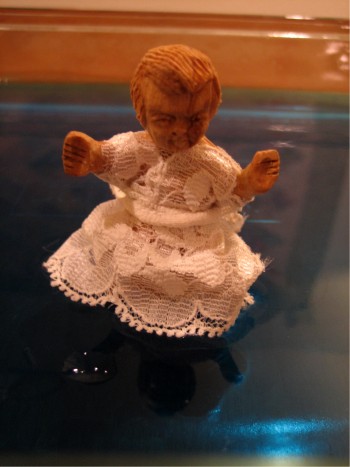 J: So what? Walk across? Easy peasy, lemon squeezy. And hey? Do ya dig the nightgown, Moi? I am totally digging on the nightgown.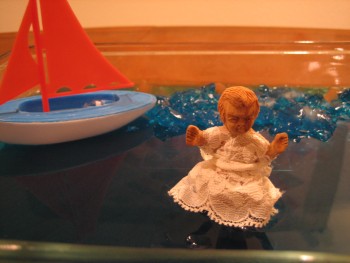 J: Oh Noes! That boat wake does not look good.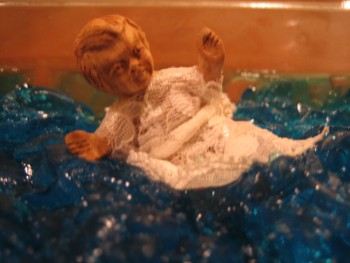 J: What? I slipped. Hydroplaning sucks ass when the water is choppy.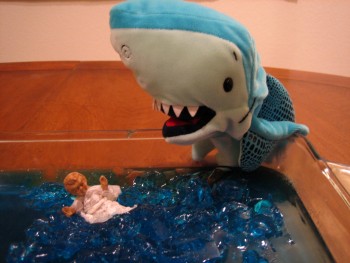 J: Well this looks like it might get worse before it gets better.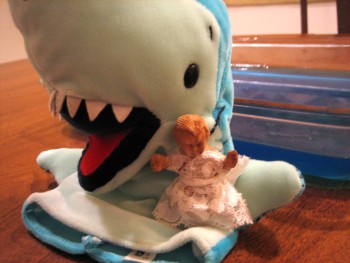 J: See the distance between my hands? I once caught a shark this big (*cough* Hippiedork *cough*).
Shark: Lulz. Seriously, though. I once caught a Jesus this big.
J: Lets be best friends forever.
Shark: Word.
J: You know what we should do to celebrate? Baby J photo montage!
Baby J Photo Montage: The One True Cracker

Proof that they were actually crackers. You know, for the so-called purists out there (*cough* babity, Maria *cough*) who don't believe Ritz is a cracker.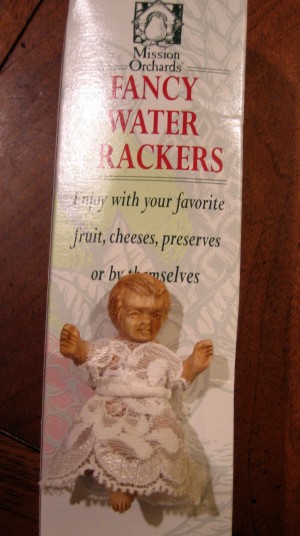 This, by the way, is one of the lesser known major theological splinters of Christianity: Whether Ritz is actually devil food. And maybe the purists have a point. I do want to get/am drunk and naked when I eat them.
Unfortunately, we discovered a strange little secret about the purist crackers when we opened the box: They are too small for baby J to rest comfortably on. Oh, why must the one true faith be so uncomfortable? I tried to get baby J to just lie on it and 'think of England'. But J don't play that way.

So instead we present, "cracker on Christ!" Try it sometime when you are feeling exasperated. It may help.
Or why get stuck in that 'who is the one true cracker' scene?* I say, go for the new wave sayings. May we suggest: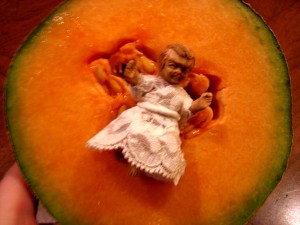 Christ on a cantaloupe!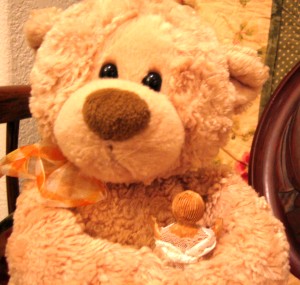 Christ in a bear hug?
Or from Deb the Elf, Baby J Holy Elfling Christ Getting Freaky in Tuscon. That has a nice ring to it.
Still working on the Dancing Christ with Chorus Girls request, but I gotta say that will probably have to wait until next year as our house is sorely lacking Barbie underwear, and the kicky chorus lineup is quite offensive without them.
*Baby J retorts, "I am the one true cracker**. Eat me."
** But not necessarily 'cracker' as suggesting 'white'. Because you know. History just doesn't support that idea, no matter how many Anglo pictures portray him with the flowing blond hair